Renowned market analyst Dark Defender recently predicted that XRP could ultimately reach $18 or $13, depending on the trajectory it takes following the Elliott Wave pattern.
In his recent analysis, Dark Defender highlighted the importance of the Elliott Wave pattern, which has been a recurring topic of discussion among XRP enthusiasts. The analyst notably expressed his confidence in the predictive power of this model, saying that it has stood the test of time.
One of the notable points he highlighted in the analysis was the lack of correlation between XRP's price movements and Ripple's fortunes. Interesting way, Ripple has won three consecutive victories in the SEC trialbut XRP remains in recession.
Dark Defender pointed out that the value of XRP does not necessarily correspond to Ripple's success or setbacks. Instead, XRP's price movements appeared to pivot around the Elliott Wave pattern. This trend is another testament to its reliability.
– Advertisement –
The Elliott Wave is an analytical tool with five waves for analyzing and predicting market trends. According to Dark Defender, XRP is currently on a path that leads it to the highly anticipated wave 3. This development marks a critical point, paving the way for significant potential gains.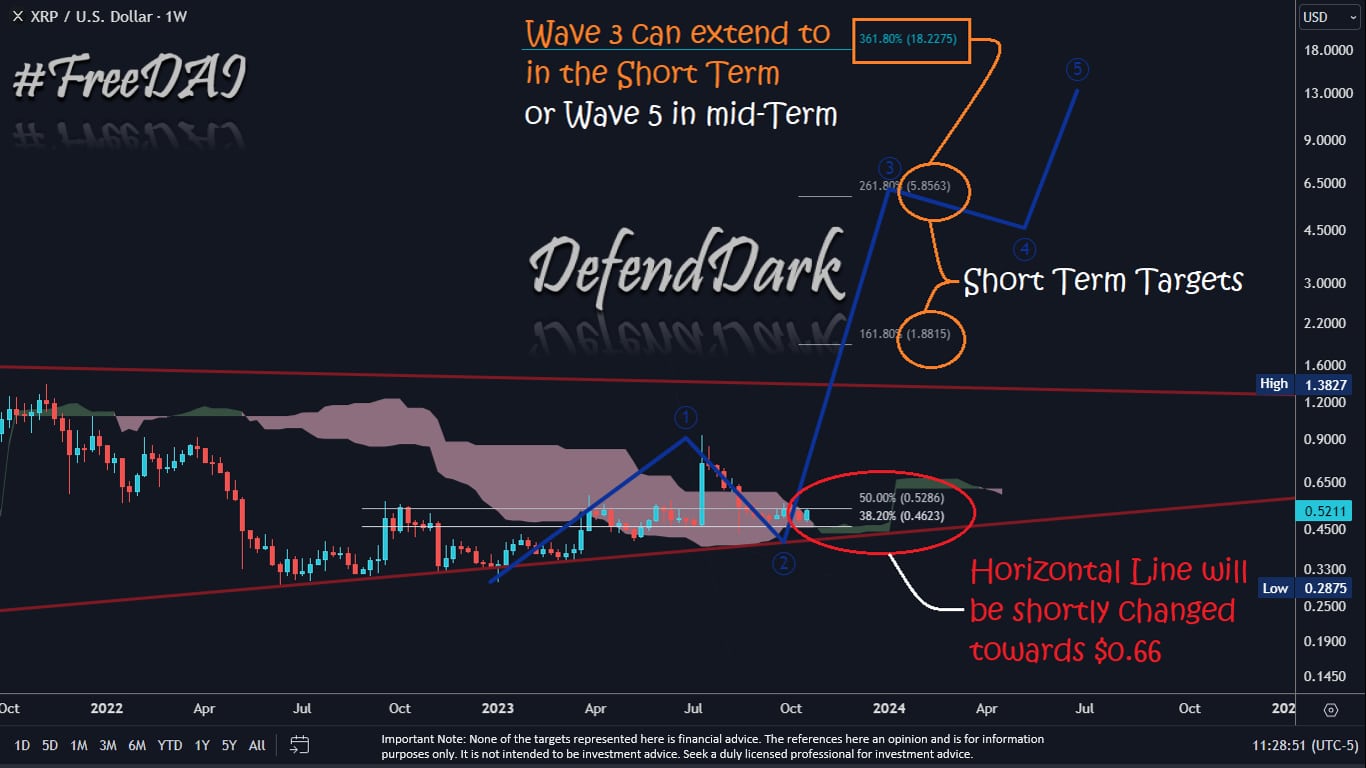 The analyst further confirmed that XRP is currently trading in Wave 2. The range for Wave 2 is between $0.46 and $0.5286. Dark Defender sees XRP close above the $0.5286 upper threshold during the week, potentially paving the way for a push towards $0.66 the following week.
XRP will hit $18.22 or $13
Following these targets, he expects XRP to reach a median target of $5.8563 for wave 3 in the near term. However, this climb may not be the end of the road. The analyst presented the possibility of XRP extending its rally to $18.22.
However, the market presents alternative outcomes. Dark Defender stressed that if the extension to $18.22 does not materialize, XRP could further rally to $13 as part of wave 5. Reaching $18.22 would require a 3,426% increase from the current XRP price and $13 would require a 2,415% rally.
The analyst stressed that investors should not take these targets as financial advice. XRP is currently trading at $0.5167, down 0.12% in the last 24 hours. Market participants must carry out proper research before making any investment decision.
Follow us on Twitter And Facebook.
Disclaimer: This content is informational and should not be considered financial advice. The opinions expressed in this article may include the personal opinions of the author and do not reflect the opinions of The Crypto Basic. Readers are encouraged to conduct thorough research before making any investment decisions. Crypto Basic is not responsible for any financial losses.
-Advertisement-