Congratulations to Dautzenberg Roman and his team of researchers, who won the 2023 IROS Prize for Best Paper on Mobile Manipulation, sponsored by OMRON Sinic X Corp. for their article "A perched and tilting aerial robot for precise and versatile work with power tools on vertical walls". Below, the authors tell us more about their work, the methodology, and what they plan next.
What is the research topic in your article?
Our article shows an aerial robot (think "drone") which can exert significant forces in the horizontal direction, that is to say on walls. This is a difficult task because drones typically rely on thrust vectoring to apply horizontal forces and therefore can only apply small forces before losing control authority. By perching on walls, our system no longer requires propulsion to stay on a desired site. Instead, we use the propellers to achieve large reaction forces in all directions, even on walls! Additionally, perching allows for extreme precision, as the tool can be moved and readjusted, while remaining unaffected by external disturbances such as wind gusts.
Could you tell us about the implications of your research and why this is an interesting area of ​​study?
Precision, effort and mobility are the three (among many) criteria on which robots – and those who develop them – compromise. Our research shows that the system we designed can accurately exert large forces with only minimal compromises in mobility. This expands the horizon of tasks imaginable for aerial robots, while providing the next link in the automation of the chain of tasks required to carry out many procedures on construction sites or in remote, complex or dangerous environments .
Could you explain your methodology?
The main objective of our paper is to characterize the behavior and performance of the system, and to compare the system to other aerial robots. To achieve this, we studied the precision of the perching and positioning of the tools, as well as compared the applicable reaction forces with other systems.
Furthermore, the article shows the energy consumption and rotational speeds of the propellers for different phases of a typical operation, as well as the configuration of some mechanisms of the aerial robot. This allows a deeper understanding of the characteristics of the aerial robot.
What were your main conclusions?
More specifically, we show that perching accuracy is within +-10 cm of a desired location over 30 consecutive attempts and that tool positioning has mm-level accuracy, even in the "worst case" . Power consumption when perched on typical concrete is extremely low and the system is capable of performing various tasks (drilling, screwdriving) also in near-realistic outdoor scenarios.
What other work do you plan to do in this area?
Going forward, capacity building will be a priority. This concerns both the types of surface manipulations that can be carried out, but also the surfaces on which the system can be placed.
---
About the Author
| | |
| --- | --- |
| | Dautzenberg Roman is currently a master's student at ETH Zürich and team leader at AITHON. AITHON is a research project that is transforming into a start-up for aerial construction robotics. This is a core team of 8 engineers, working under the leadership of the Autonomous Systems Laboratory at ETH Zürich and located at the Swiss Innovation Park in Dübendorf. |
---
Daniel Carrillo Zapata
completed his PhD in Swarm Robotics at Bristol Robotics Lab in 2020. He now fosters the culture of "scientific hustle" to engage in two-way conversations between researchers and society.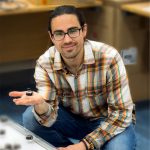 Daniel Carrillo-Zapata completed his PhD in swarm robotics at Bristol Robotics Lab in 2020. He now fosters the culture of "science hustle" to engage in two-way conversations between researchers and society.