Dublin, November 10, 2023 (GLOBE NEWSWIRE) — The "Malaysia Gaming Market Report" a report from Niko Partners, Inc. has been added to ResearchAndMarkets.com offer.
Malaysia is one of the markets in Southeast Asia that is slowly evolving into a mature market.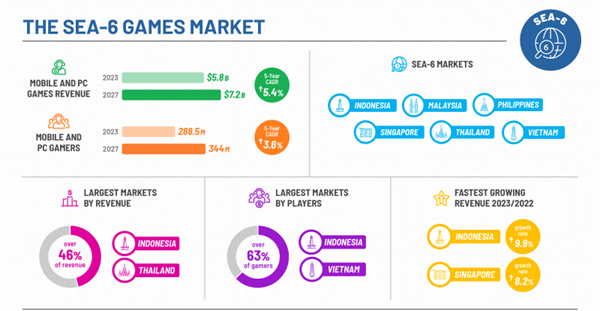 The promising video game market and favorable business environment have led international video game companies to open overseas offices in Malaysia. A strong mobile-focused market, the country is poised to boost its overall gaming market through increased government support and strong infrastructure development, particularly 5G deployment.
Leveraging our comprehensive market model and insights from a survey involving over 2,400 gamers in the region, discover key data and trends on game publishers, top genres, growth drivers, esports, payments, financial transaction events, regulations, player preferences and behavior, and much more.
Key topics covered:
Introduction
Executive summary
Macroeconomic data
PC games market
PC Gaming Market Overview
PC gaming revenue
Main PC game publishers
PC gaming overview
Popular PC Games by Survey
PC Gaming Time and Spending by Survey
Popular PC game distribution platforms
Internet cafe information by survey
Mobile games market
Mobile Games Market Overview
Mobile games market revenue
Top Mobile Games by Downloads
Best mobile games by revenue
Top publishers by downloads
Main publishers by turnover
Main genres of mobile games
PC gaming revenue
Mobile game overview
Popular mobile games by survey
Mobile Gaming Time and Spending by Survey
Favorite Mobile Game Store by Survey
Console gaming market
Main console platforms
Popular console games by survey
Console play time and spending/subscription by survey
Payments and monetization
Payment options
Survey payment information
In-Game Spending Factors by Survey
Favorite spending in gaming by survey
In-game ads by survey
Cloud Gaming Insights by Survey
Reasons not to spend money on games
What Non-Spenders Would Buy
Player Survey Information
Survey Respondent Demographics
Device ownership by survey
Popular PC and Smartphone Brands by Survey
Location information by survey
Source of gaming information by survey
Factors That Drive Players to Try New Games
Most hated aspects of games by survey
Streaming and video content by survey
New technologies in video games
Gaming Market Trends and Analysis
General outlook
Local Gaming Companies/Local Games & Events Update
Analysis of latest trends (e.g. M&A, web3, gaming influencers, localization, expansion of non-endemic brands into gaming)
5G deployment
Esports data
Overview of local esports development
PC Esports Tournament Preview
Mobile Esports Tournament Overview
Major esports tournaments on PC and mobile
Notable teams and sponsors
Esports engagement by survey
Best esports games
Game rules
Overview of the rules of the game
Notable regulators and influential organizations
Game Rating
Annex
Methodology
List of genres
Glossary
Companies mentioned
ABI Global
Activision Blizzard
Éonsparx
Airasia
Apple
AppLovin Corp.
Asiasoft (CIB Net)
Asus
Azure interactive games
BabyBus Group
CIMB
Common extract
Cubet
Double eleven KL
Electronic Arts (EA)
Kissing Group
Epic Games
Integrated Esports (ESI)
Garena
family of geeks
Google
HomeWood
Hoyoverse
Huawei
IAH Games
Kaigan Games
Konami
Kurechii Games
CGDI
Lemon Sky Studios
Malaysian Digital Economy Corporation (MDEC)
Malaysian Ministry of Education (KPM)
Malaysian Ministry of Youth and Sports (KBS)
MasterCard
Maybank
Metronomy
miHoYo
MIMOS technological solutions
MiniClip
Ministry of Communications and Multimedia Malaysia (K-KOMM)
Moonton
NX3 Games
OPPO
Outfit7
Passionate Republic
Playrix
Real me
Riot games
Roblox Company
RSG
SayGames
smiling gate
space puppy
Streamline games
Supercell
Supersonic Studios
Interactive Take-Two
Haq Esports Club Team
Tencent
Tic Tac
TODAC
Ubisoft
Valve (Steam)
VISA
Virtuos KL
War games
Xiaomi
Xsolla
For more information on this report, visit https://www.researchandmarkets.com/r/boobkj
About ResearchAndMarkets.com
ResearchAndMarkets.com is the world's leading source of market research reports and international market data. We provide you with the latest data on international and regional markets, key industries, largest companies, new products and latest trends.